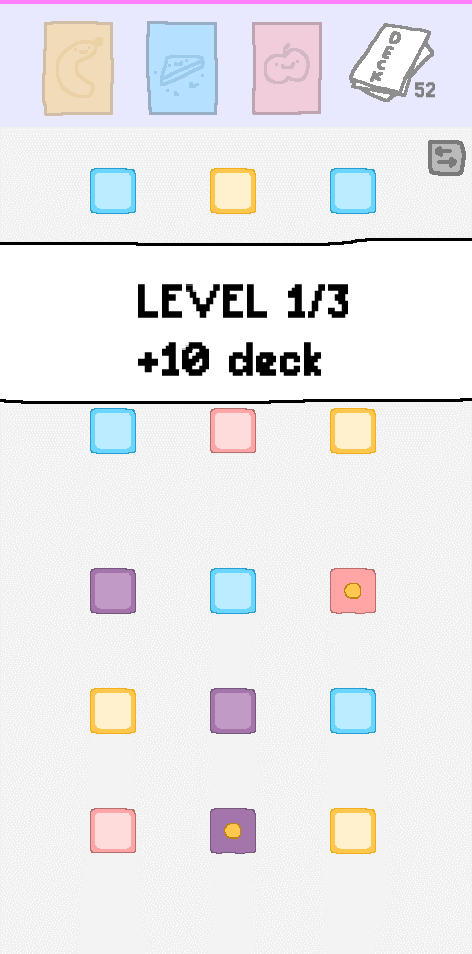 BETA BIG CHANGES

WELCOME BACK TO LIZARD LAND

Forget everything you learned yesterday, there was so much helpful feedback I've made some huge changes! Things should be easier to learn and make way more sense :D Check it out:

Boards are now scored in a much simpler fashion. You get 1 point for every TILE (or pip) that is next to its same colour
Levels are beaten by COLLECTING all the CARDS at the top of the screen (still done by scoring COLUMNS of matching tiles)
Only the SWITCH skill is available now, this should help with things feeling overwhelming
Lizards no longer give points as they spawn, now the lizards on each board add to a multiplier of your score (thanks @Toad_Racer)
A bunch of new art and effects to make everything make more sense <3
The only downside is that this has probably added a ton of bugs and glitches to the game.

I've also tried to redo the math on the new SCORING and DECK size to catch up with the changes but there is still a long way to go, I reckon just try and beat the game with the current score, then play again and see how high a score you can get for more challenge.

I've uploaded a new feedback form for the new build so please be as critical as you can again. Your feedback has already changed the whole game once :D
Loving lizards

-HAPPY SNAKE GAMES

Files
THAT LIZARD STOLE MY LUNCH (24th Jan 2018)
2 MB
Jan 24, 2018
Get THAT LIZARD STOLE MY LUNCH